Name (In-Game): Harris_Winterfield
Age (IC Age): 22
Reason for applying a Firearms License (At atleast 100 words, Reason must be IC):
I am Harris, a citizen of Republika City, I have already a lot of experience in any kind of things, I've been a former Doctor, a Mechanic, and a Police, and currently, my Name is pretty well known in the City, I am not very rich, but I have things that they can get from me, I need to own a Gun License for myself, cause Safety is an important priority.
I am kinda scared of what may happen to me, on any events that may arrive.
Criminals, Gang and Hitmans are spreading nowadays to the city, specially robbers, kidnappers, and holdappers, in having a gun license helps me to own a weapon legally, and the gun will really give me a big help to protect me.
In other words, it is important for Self Defense purposes only, and for me not to be imprisoned, for having a gun.
and It occurred that I've been a police Officer before, a PNP personnel indeed.
so serving our City, the people, and citizen around, was a pleasure for me, before I use to protect myself in any kind of operations and missions.
so now it's maybe the time to protect me, truly me and the license maybe can help me, but not only me, if there's someone happens, a big example for that is It can also protect my friends and family.
so the main reason or the purpose for me to have a gun license, is of course, to own and have a gun.
for me a license is not required to make a firearm solely for personal use. However, a license is required to manufacture firearms for sale or distribution.
and if I already have a gun license, It means that I can also have a gun, and these are the benefits of owning a gun.
There are benefits of gun ownership that include boosting your physical and mental well-being while having a blast at the same time.
PERSONAL RESPONSIBILITY. ...
PHYSICAL DISCIPLINE. ...
CONFIDENCE. ...
STRESS RELIEF. ...
TAKING PRIDE IN GUN OWNERSHIP.
so that's why, I want to have a gun license
and If I am given a chance to have one, Why Not?, I can assure to all of you that I will use it properly, and to use it on the right thing.
I will never disappoint you.
Screenshot of Stats (Both Pages):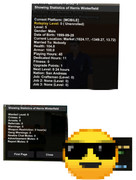 UPON ACCEPTANCE OF THE APPLICATION, YOU WILL BE FINED $500,000 FOR THE GUN LICENSE.
NOTE: (IC DISCLAIMER) By applying for a firearms license, you abide by the rules and regulations of Republika City and will be punished accordingly by the authorities if you misuse such privilege. You hereby accept that government authorities have the power to revoke your firearms license if proven that you have misused such privilege.
NOTE: (OOC DISCLAIMER) By applying for a firearms license, you hereby abide by the rules of GTA: Republika Roleplay, and you hereby agree that you will be punished accordingly if you misuse such privileges. You hereby accept that staff members have the power to revoke and ban you from the privileges of a firearms license if caught breaking the rules.
#GUNLICENSE